Executive Leadership Team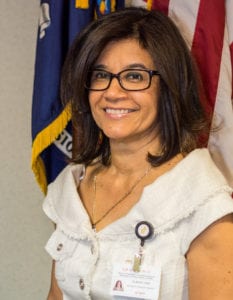 District Superintendent Dr. Gladys I. Cruz
Chief executive officer of the BOCES. Oversees all BOCES offices and services. She also oversees the executive leadership team, school attorney, certification specialist, and Superintendent Council.
Administrative Assistant: Janet Sawyer, 518-479-6993, janet.sawyer@questar.org
Chief Operating Officer, Deputy Superintendent and Chief Innovation Officer Harry Hadjioannou
Oversees human resources and all business office operations (including payroll, financial management and planning, rent and capital projects, and contract administration and management), business officials meetings, business operations of the Education Foundation and the Administration and District Services Superintendents' Subcommittee. Also oversees all business and financial services, including state aid and financial planning service, BOCES planning and support service, STAC service, shared business manager, GASB45, internal audit, central business office and human resources service, administrative management and planning, claims auditing, fixed assets, Health Insurance Trust, Workers Compensation Consortium, cooperative purchasing and equipment leases. Also oversees health and safety, risk management, communications, operations and maintenance (O&M), shared O&M, couriers and warehouse operations, information technology, and program reviews. He also participates in the Joint Management Team (JMT) business officials' meetings.
Administrative Assistant: Barbara Boudreau, 518-479-6867, bboudreau@questar.org
Associate Superintendent Dr. James Niedermeier
James Niedermeier joined Questar III in July 2023. He oversees all academic programming within the BOCES including Special Education, Career & Technical Education, Alternative Education, Adult & Continuing Education, New Visions, Tech Valley High School, Distance Learning, and Pre-Kindergarten. Prior to coming to the BOCES, Niedermeier served as superintendent of Duanesburg CSD and Chief Academic Officer/Principal of Tech Valley High School, a joint venture of Questar III and Capital Region BOCES. He previously served as a teacher, director of instructional technology, and principal in Finger Lakes region. He holds a BA from Elmira College, an MA from SUNY Brockport, certificates of advanced study from SUNY Oswego and the University of Rochester, and a doctorate in the educational leadership program at The Sage Colleges.
Administrative Assistant: Robin Emanatian, 518-479-6882, remanatian@questar.org
Assistant Superintendent for Exceptional and Early Learning Shauna Maynard
Chief School Improvement Officer Terry Bordell
Terry Bordell joined Questar III BOCES in April 2019 as Chief School Improvement Officer. In this role, he oversees Staff Development, Regional Bilingual Education Resource Network (RBERN), Data Analysis Services, the Angelo del Toro Puerto Rican/Hispanic Youth Leadership Institute (PRHYLI), School Library System, Model School, Regional Scoring, Home Schooling, Leadership Coaches and more. Prior to coming to the BOCES, Bordell served as a district administrator in the City School District of Albany. He has also served as an English teacher, Secondary English Teacher-Leader and High School Assistant Principal at the Chatham Central School District. He began his teaching career in Phoenix Arizona as a middle school ELA teacher.
Bordell holds a B.S. in Secondary English Education from Buffalo State College, an M.A. in English from Northern Arizona University and an Advanced Graduate Certificate in Educational Leadership from Massachusetts College of Liberal Arts. Bordell's wife, Candi, also works in public education as an elementary ENL teacher in Scotia-Glenville. They have one daughter who attends the Bethlehem Central School District.
Administrative Assistant: Debbie Rozniewski, 518-479-6884, drozniewski@questar.org
Director of Human Resources Mike Buono
School Attorney James Tardy
Executive Secretary Janet Sawyer
Other Central Administration Functions
The administrative budget supports the management and leadership provided by the BOCES board and central administration, which includes the District Superintendent, business office, and board clerk.
Business Office
The Business Office is responsible for accounts payable/receivable, budget development, and purchasing. Please call 518-477-8771 to reach this office. Interesting in bidding, surplus or RFP information? Contact Purchasing Agent Jeremy Pestana at jpestana@questar.org. 
Certification
Questar III is authorized by the State Education Department to evaluate certification applications for areas related to professional services. For more information, contact Gregory Portanova at 518-479-6883 or gregory.portanova@questar.org.
Human Resources
This office oversees the hiring of new employees and staff benefits. Please visit our employment page to view openings and information on how to apply. Questar III employees looking for forms or benefit information should visit InfoCenter.