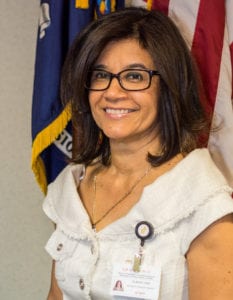 Gladys Cruz, Ph.D., District Superintendent
Over a 30-year span, Dr. Gladys I. Cruz has established a distinguished career in education as a teacher and leader at the local, regional and state levels.
As District Superintendent for Questar III, Cruz is responsible for overseeing day-to-day operations of the Castleton-based BOCES, reporting directly to the Board of Education. Along, with her leadership team, Cruz provides direction to 23 local school districts and oversees the delivery of more than 275 programs and services across New York State.
Since joining Questar III BOCES in 1998, Cruz has held a number of leadership positions including Chief Operating Officer/Deputy Superintendent, Assistant Superintendent, Director of School Improvement and BETAC Specialist.
Cruz began her career as a teacher in Puerto Rico and her education experience ranges from K-12 schools to universities in New York State and Puerto Rico. In addition, she worked briefly as director of curriculum services for the New York State Education Department.
Cruz holds a Ph.D. in Curriculum and Instruction and a master's degree in Curriculum Development and Instructional Technology from the State University of New York at Albany. In addition, she holds a master's degree in Bilingual Education and a bachelor's degree in Elementary Education and English from La Universidad del Turabo in Puerto Rico.