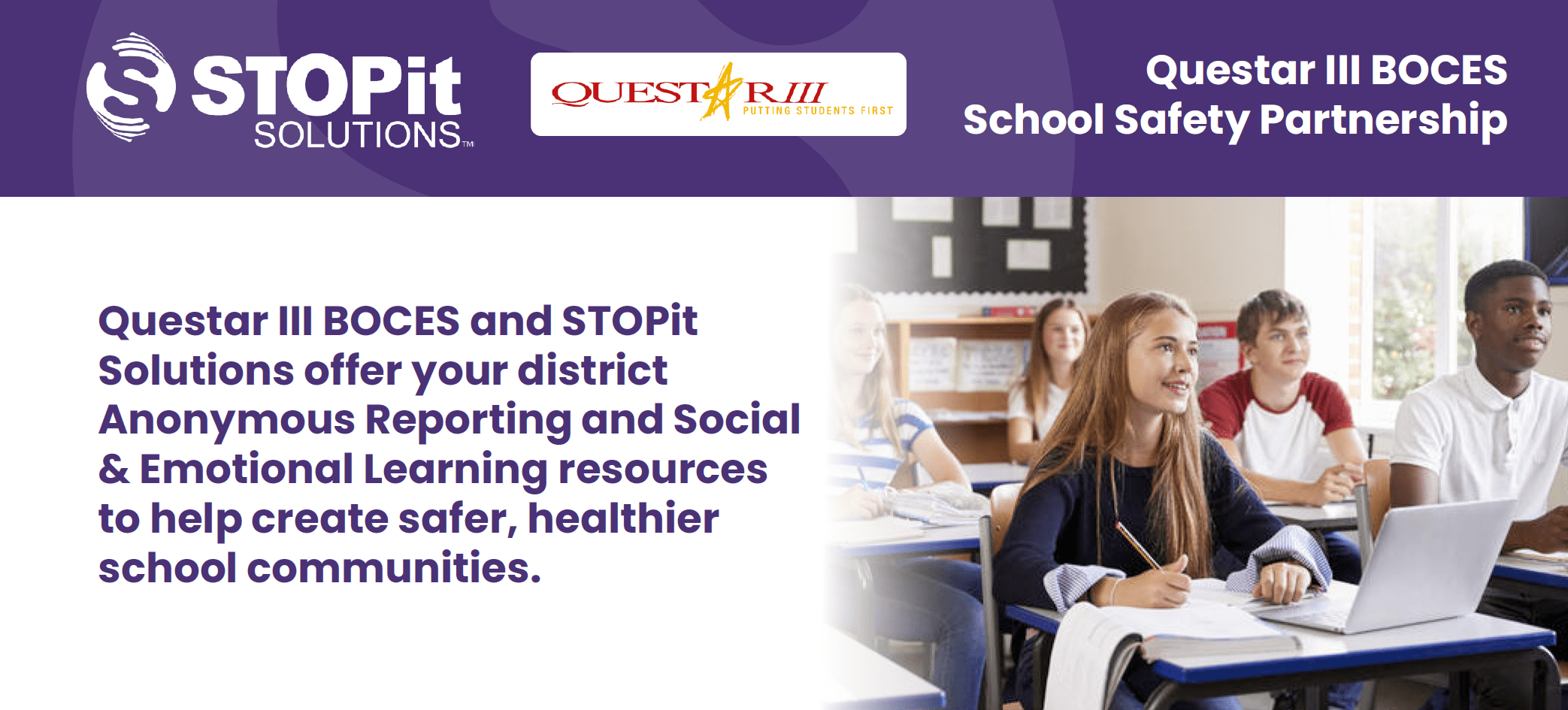 Questar III and STOPit School Safety Partnership
Questar III has partnered with STOPit Solutions, one of the nation's leading experts in school safety, to bring its Anonymous Reporting System (ARS) and comprehensive School Safety Program fully funded to districts across the state of New York.
The combined programs teach and empower students, staff, and administrators to recognize and anonymously report safety, misconduct, and compliance concerns BEFORE they escalate into a crisis while also providing curriculum to educate and help prevent such concerns from ever occurring.
Funding is being provided through the Stop School Violence Act, a Department of Justice grant, recently awarded to Questar III.
Who is STOPit?
STOPit is the nation's leading Anonymous Reporting System and School Safety Program that teaches how to identify and get help for individuals displaying violent, unsafe, or harmful behaviors toward themselves or others.
Questar III has chosen to partner with STOPit Solutions after a thorough, internal vetting process for the use of their Anonymous Reporting System, Incident Management System, Direct integration with Crisis Text Line, SEL Training & Wellness Center, and custom Out of Hours Incident Management Service for the benefit of our members. Other optional services include HELPme and 911-Direct Panic Alert System.
STOPit's partnership also includes:
Dedicated STOPit Account Manager for Set-Up, Onboarding, Launch, and Ongoing Support
Available Marketing Material inclusive of Posters, Bracelets, Stickers, etc.
Support Resource Library including Launch Kit for Students, Staff, Administrators, and Parents
24/7 Live Support Chat
Please contact Nick Zema at nzema@stopitsolutions.com for more information, or visit the Partner Website below: