Questar III BOCES was named one of the Capital Region's Top Workplaces for 2017, according to a survey published in the Times Union on April 9. This is the third time the organization has earned this regional honor.
The Times Union partnered with Workplace Dynamics to prepare this annual report of the top places to work in the Capital Region. Winners were selected based on criteria combining employee feedback such as corporate culture, leadership and work. The Times Union survey placed Questar III in the top 3 of large-sized companies (with more than 400 employees).
Questar III District Superintendent Dr. Gladys I. Cruz said being recognized as a top workplace is a great honor, particularly since it was determined by staff feedback.
"This honor is a reflection of our staff's continuing efforts to change lives, realize dreams and do together what can't be done alone. They are the reason why we received this distinction and why we have earned a regional and statewide reputation for excellence," Cruz said.
Cruz said Questar III participates in the survey to measure how well it is doing – and to have conversations with staff about its perceived strengths and weaknesses.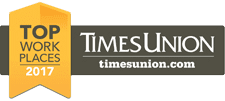 The Top Workplaces are determined based solely on employee feedback. The employee survey is conducted by WorkplaceDynamics, LLP, a leading research firm on organizational health and employee engagement. WorkplaceDynamics conducts regional Top Workplaces programs with 46 major publishing partners. In total, more than one million people complete the survey each year.
Questar III was also named a Top Workplace the other two times it participated in the survey (2013 and 2015).