The Questar III Logotype
The Questar III logotype is the primary element of the Questar III visual identity system and must appear on all official Questar III communications. It may not be modified* or distorted in any way. The Questar III logotype, with the tagline "Putting Students First," is the preferred visual representation for the organization. However in some instances, it may be used alone without the tagline. Please be aware that all Questar III logos are protected under federal trademark law. All logos are provided in formats appropriate to your usage needs such as JPG, PNG, TIF.
The complete Questar III BOCES Style Guide is available in PDF format for you to download. [Style Guide]
| | |
| --- | --- |
| | |
| | |
| | |
| [PNG] | [PNG] |
| [PNG] | [PNG] |
* The black box represents a dark background. It is not part of the logo.
Questar III Star
PowerPoint Template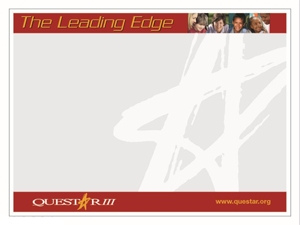 The Communications Department has developed a PowerPoint template for employees which allows for the consistency in branding throughout the organization. Download template