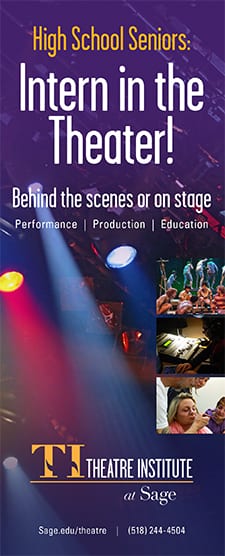 The Theatre Institute at Sage (TIS) Internship Program provides high school seniors with the opportunity to explore careers in theatre performance and production through a combination of project-based experiences, integrated academics, and traditional classroom instruction. The program serves high school seniors with a strong interest in the performing arts from the school districts served by Questar III and Capital Region BOCES. Students apply during their junior year and will interview and audition for placement in the program. Accepted students must demonstrate the ability to undertake college-level work and participate in activities that require independence and responsibility.
Program Details
Students will attend for one semester, September through mid-January or mid-January through June.
The program is housed at Schacht Fine Arts Center on the Russell Sage College campus in historic downtown Troy.
The program will follow the high school schedule, meeting daily from 10 a.m. – 6 p.m. (There will be slight variations in the hours when shows are in production.)
TIS students will receive academic credit in the following subject areas
12th grade English (1 credit)
Art Elective (1/2 credit)
Social Studies (Participation in Government or Economics) (1/2 credit)
Independent Physical Education (at discretion of school district) ( 1/2 credit)
College credit available through the program
Students will be offered one of the following college courses (based on availability):
Theatre Elective:

Acting I: Storytelling/Improvisation (3 credits) OR
Stagecraft (3 credits) OR
Stage Combat (1½ credits)
In order to receive college credit, students must register with Sage and pay a fee of $50/per credit.