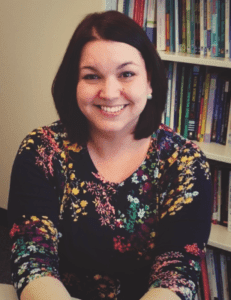 Shauna Maynard, Assistant Superintendent of Exceptional and Early Learning for Questar Ill BOCES, was named the 2022 Outstanding Early Career Educator by the Council of Administrators of Special Education (CASE).
The CASE Early Career Special Education Administrator Award is presented annually to a special education administrator who is a member of CASE and in her or his first five years administering special education programs and/or services, and who exemplifies CASE's ethics, values, and standards. Maynard received the award on Nov. 8 in Salt Lake City, Utah in conjunction with the CASE 2022 Annual Conference.
Maynard is a leader in the development of special education programs and services for students with complex disabilities for a vast region of 22 school districts. She not only guided the department in navigating through the pandemic, but also served in the integral role of acting liaison between the New York State Education Department and the regional directors of special education. Maynard provided ongoing updates regarding the ever-changing guidance from the Education Department, Department of Health, and federal agencies.
She has facilitated monthly meetings of regional special education directors to review regulatory requirements, best practices, collaborative problem solving, and professional development, including support for students with disabilities who are English Language Learners, integrated co-teaching models, specially designed instruction, transition planning for students with disabilities, and behavior intervention plan development and best practices. Maynard also led the collaboration of school safety and crisis preparedness training along with therapeutic crisis intervention training for regional school districts. Through her work, a safer school environment was created, not only for students but also for staff.
"Ms. Maynard truly embraces her role as an administrator and continually has a positive impact on student outcomes because of her relentless efforts. She is personable, interactive, and maintains a great rapport with students, staff, and colleagues. She has served in various capacities throughout her career where she has been able to demonstrate her capacity to lead. We are extremely lucky to benefit from the leadership that she provides and feel that she is a fitting recipient of the Early Career Special Education Award," said Anthony J. Taibi, assistant superintendent for Career & Technical Education and Innovative Programs at Questar III.

The CASE Awards Committee selected Maynard based on her high-quality leadership, innovations and contributions to special education and the quality of services provided to children with exceptionalities and her education-related accomplishments.