Thank you to everyone who made this new program and this event possible!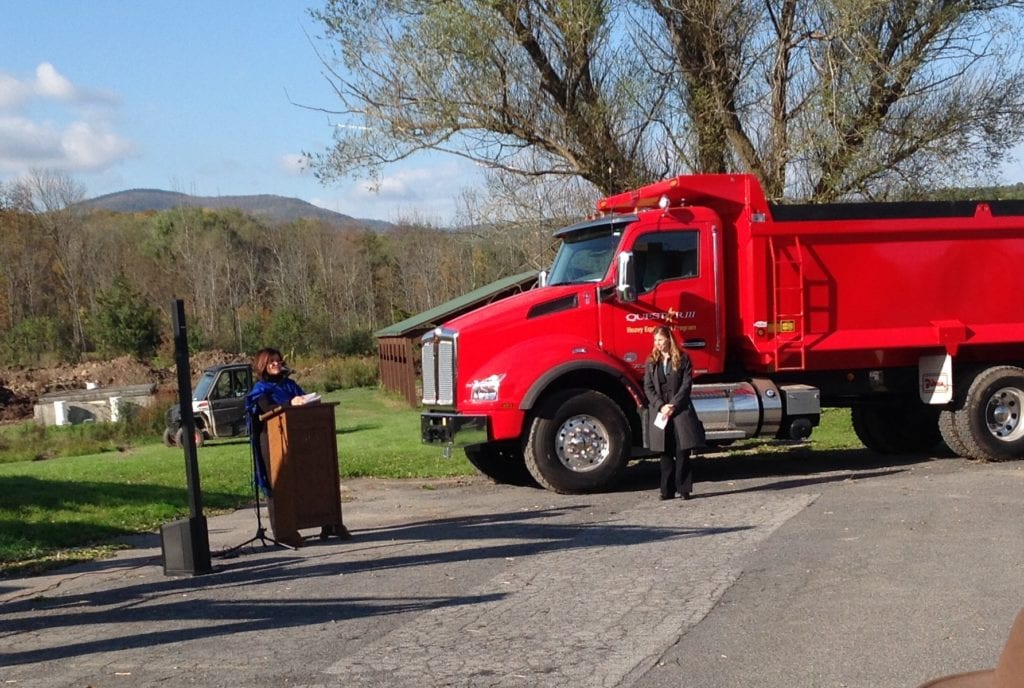 Questar III District Superintendent Dr. Gladys I. Cruz speaks at the Heavy Equipment Operation and Maintenance program ribbon cutting.
On Wednesday, October 17th, Questar III celebrated the new CGEC Heavy Equipment Operation and Maintenance Program with a Ribbon Cutting Ceremony at their program site located at the former Durham Elementary School.
The assembled guests, including business and industry representatives, Questar III Board Members and staff, community leaders, Cairo-Durham School leaders, Greene County Chamber of Commerce staff and other guests heard welcoming remarks from Dr. Danielle Bouton-Wales, Questar III Director of Career and Technical Education; Dr. Gladys I. Cruz, Questar III District Superintendent; Mr. Anthony Taibi, Superintendent of Cairo-Durham CSD; Mr. Chris Ray, Heavy Equipment Operations and Maintenance teacher, and an inspirational speech from Assemblyman Chris Tague from the 102nd Assembly District regarding his personal pathway from BOCES student to leadership roles in business and government.
"Early on, our business partners told us that it was an educational and economic imperative to prepare the next generation of heavy equipment operators. After all, according to the U.S. Bureau of Labor Statistics, the employment of construction equipment operators is expected to grow at a rate of 12 percent through 2026, which will lead to more than 50,000 new jobs," said Cruz. "Career and technical education programs like this are critical to our region – particularly in rural communities across Greene and Columbia Counties. While it is true that unemployment is at its lowest rate in nearly 50 years, we know that far too many jobs remain unfilled in the U.S. because of a lack of qualified applicants."
Bouton-Wales thanked the business partners who worked with the BOCES to create this new program.
"The business and industry members have been instrumental in the development of this program. Their support along with the support of the community and the Cairo-Durham Central School District has allowed us to create and offer this amazing opportunity for Columbia and Greene County students. We are excited to continue to work with our business and industry partners to provide students with real-world learning, practice, and experiences throughout this two-year program."
Guests were treated to a "parade of equipment" featuring students demonstrating their newly-acquired skills of operating the variety of machinery utilized in the program. Students enrolled in this program are from Cairo-Durham, Coxsackie-Athens, Greenville, Catskill, Germantown, Hudson, Schodack and Taconic Hills School Districts. Refreshments were provided by the Culinary Arts Program and students from the Criminal Justice Program volunteered as parking coordinators.
Local businesses who have been greatly supportive in the development and planning of this program include; Associated Builders & Contractors, Empire State Chapter, Callanan Industries, Inc., HMA Contracting, Hoosic Valley Contractors, Milton CAT, NYS Association of Builders and Contractors, Peckham Industries, Rifenburg Construction, Inc. Robert H. Finke & Sons Equipment, WM. J. Keller & Sons Construction, with special thanks to Tim Casey, John Finke, Gene Kluck, Steve Micelli and Joe Wildermuth.
"Our program has tremendous potential for really impacting the area. Students are receiving training that far exceeds the industry standards and they will be highly employable once they graduate. The number of people that showed up to celebrate this ribbon cutting ceremony demonstrates the massive support we have from the surrounding areas. The best part of this program is the kids themselves; they are so eager to learn and so engaged. They will be the ones employed with these companies in the years to come, and they will continue to give back to the community that supported them," said CTE Coordinator Kim Sparkman.