I traveled to Cuba as part of an American Association of School Administrators (AASA) delegation from April 17-22. We met with employees from the Ministry of Education, technical or career schools, literacy museum, Ernest Hemingway museum, and other educational and cultural programs. I was seeking to answer two important questions: How are Cubans able to maintain one of the highest literacy levels in the world? What (if anything) can we learn from the Cuban educational system? I quickly ascertained that the responses to these questions are complicated.
Cuba's educational system is characterized by two distinct phases – education until 1958 and education in Cuba after January 1, 1959 (when Fidel Castro assumed power).
The education system is centralized and rooted in the political system of the country. Education to all Cubans is free beginning in preschool and continuing through graduate and post-graduate studies. Moreover, graduates are assured a position upon completion of their studies.
During the trip, we had the opportunity to speak with the spokesman of Cuba's Ministry of Education Dr. Paul Torres Fernandez, who explained that the system to us. Below is a graph depicting Cuban's educational system since 1970 (click the image for a larger version).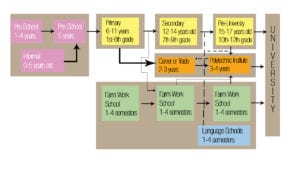 Currently, approximately 60 percent of the student population continues to attend the pre-university pathway whereas 40 percent follow the polytechnic (CTE) pathway.
The government is working to reverse this and encourage more students to continue through the polytechnic or career pathway. This is due to a shift in Cuba's economy and the demand for a more trained skilled labor.
School is compulsory only to grade 9, however; the average education level of all Cubans is 10th/11th grade. The education budget in Cuba is approximately 13 percent of their Gross Domestic Product (GDP). This is high when compared to other developing countries.
There are a total of 10,593 schools in Cuba. Of these, 6,878 are primary schools, 1,176 junior high or intermediate schools 7-9, 414 high schools, 486 technical schools, 365 specialized special education schools, 375 adult education schools and 23 teacher training schools. Cuba currently has one of the best teacher to student ratios in the world, with one teacher for every 47 citizens.
Preschool in Cuba
Cuban educators are well aware of the research on preschool education and the importance of educating all children during the early years of life. Thus, every Cuban child between ages 1-5 participates in a formal preschool program or an informal preschool program – "Educate your Child" where preschool educators visit families' homes.
Preschool teachers complete a teacher-training program at the university level. Approximately 20 percent of preschool programming is offered in formal preschools. The rest of the children participate in the "Educate your Child" program developed by a group of researchers. This program includes various families and/or family members who are trained in various fields and professions (thus having expertise in a variety of fields), a doctor, and trained educators. The preschool program in the preschools coupled with the "Educate your Child" program reaches 100 percent of the preschool population ages one to five.
Primary Schools 
Primary schools in Cuba include grades 1-6. The focus at this level includes a strong emphasis on cognitive skills, and the formation of moral values and patriotism. Beginning with primary schools, students are exposed to the arts, music, sports, and drama among other areas. Teachers get to know their students, families, and communities well. This helps teachers better understand the needs of the students and identify their strengths and weaknesses. As with preschool education, there is a strong focus on developing ties between the school and the family. The pedagogy has been very consistent since the Cuban Revolution in 1959.
Basic Secondary Schools 
The basic secondary schools cover grades 7-9. Grade 9 marks the end of compulsory education in Cuba. During the intermediate grades, students begin to identify their interests and by the time they graduate from ninth grade, students and parents have made decisions about post 9th grade education. Some students continue to pre-college or grades 10-12 while others continue on the polytechnic or career pathway.
Pre-college Schools 
Pre-college schools cover grades 10-12. These schools prepare students in what we would call college pathways such as medicine, engineering, education, etc. Students take an entrance exam that assesses knowledge and skills in the basic areas of Spanish, mathematics, and science in order to enter the pre-college pathway in the field of study of their interest.
Technical and Professional Education
These schools focus on the rapid development of qualified farm workers and middle level technicians. These schools have close linkages with the industry and community services. Students following this pathway are guaranteed a job upon completion of their studies due to the high demand of skilled trade workers.
Lessons Learned
It is no accident that Cuba has one of the highest literacy rates in the world. Public education is one of Cuba's top priorities. The country allocates a high portion of its budget to education each year.
High expectations matter. A country with limited resources was able to erase illiteracy through a focused campaign in one year.
In Cuba, no one leaves school out of fear that the next level isn't affordable (unlike here in one of the country's richest nations). Cuba offers a free education from cradle to the grave, including pre-school, adult education, doctorate and post doctorate studies.
Cuba has the ultimate wrap around institution for children. It also offers community based after school and weekend programs.
The country instills its political beliefs of communism at an early age.
The country is currently undergoing a shift – their economy is demanding more trained skilled workers and fewer academicians. In response, the education system is trying to reverse the ratios of students attending the pre-university to the CTE or trade school tracks.
While the country places a value on education, there are increasing numbers of teachers exiting the system to other fields. The delegation saw this firsthand with our tour guide, who was a university professor, our bus driver who was a surgeon and our cab driver, who was a computer engineer.